Suggestions and ideas for the Mass Networking Wiki upgrade.
New features by default in the new version
Edit
Upgrading Mediawiki will provide new features to enhance our Mass Networking Wiki. The biggest advantage is that there's many useful extensions for the latest version.
Change the configuration to:
Allow users to receive an e-mail whenever a watched page is changed
Allow users to receive an e-mail whenever their talk page is changed
New features implemented through extensions
Edit
Here are some proposals that were tested in Mediawiki 1.15.1. Ask me (Osvaldo) if you need a bundle with all the required extensions. I just have to create a zip from one of my websites.
Inserting RSS feeds in pages
Edit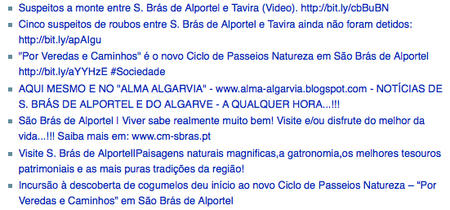 Insert in our wiki lists of links that point too:
Last items from Greenpeace websites (news, blogs, podcasts...)
Last headlines from Google News searches
Blog searches
Twitter searches
Twitter accounts
Blogs
Flicker accounts, groups, searches
Any Friendfeed content (Content from almost any social network)
Shared items in Google Reader
...
Extension: RSS
A good tool bar
Edit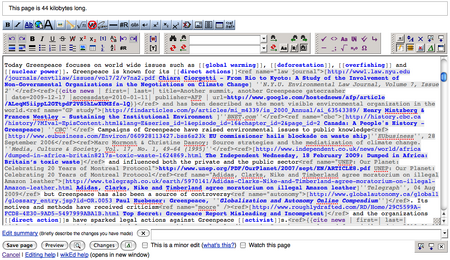 When you are editing an article, you can optionally have a complete toolbar. It helps users that are not familiar with Mediawiki syntax.
Extension: Gadgets and wikiEd gadget.
Graphics
Edit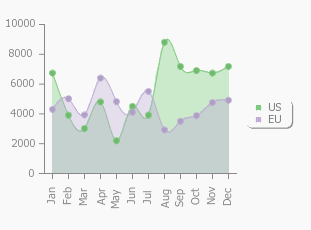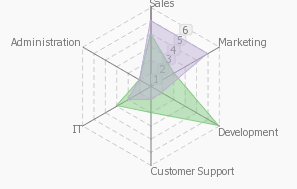 It will be possible to generate graphics trough Mediawiki:
Bar
Line
Pie
Scatter
Radar
Bubble
Extension: pchart4mw
Collaborative maps
Edit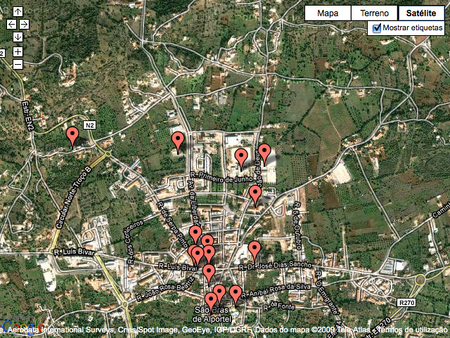 It will be possible to insert maps on pages and people can collaborate on them.
Extension: Google Maps
Inserting videos on pages
Edit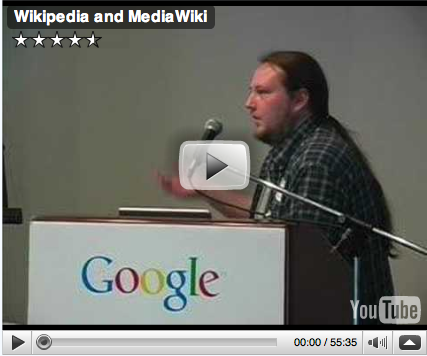 It will be possible to insert videos from Youtube and many other video sites.
The widgets extension will allow you to add the MN pages many widgets. Administrators can choose which widgets to add. Security and functionality should be considered before adding the possibility to use a new widget. It's also possible to build new widgets easily.
Other examples:
All Google Gadgets
Google Books
Picasa photo album widget
All Widgetbox
Flickr Search widget
Ohloh.net widgets:
LinkedIn profile and company
SlideShare slideshow
Scribd
Wikipedia article embedding widget
Dynamic page lists
Edit
It allows you to insert in the MNW pages scripts that generate lists of other pages. Useful to organize the wiki.
Semantic MediaWiki extensions
Edit
A bundle of cool extensions which make the wiki work more like a database engine. See http://semantic-mediawiki.org/wiki/Semantic_MediaWiki
LDAP integration
Edit
No more special logins. And no more timing out of login sessions after 30 minutes or so aaaaaargh! :-)
Redesign
Edit
Redesign of the main page

(Done)

Redesign of the Mass Networking category

(Done)
Timeline
Edit